Article
,
Fansubs
— By
Dark_Sage
on September 17, 2010 8:55 pm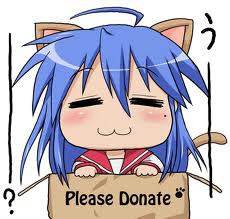 If a group can't afford to operate without donations, it's best that the group is dissolved anyway. If a fansub group is in dire straits and says it needs money, the group is lying. They're getting free materials (raws/programs used), free labor (very few fansubbers actually get paid – paying people to sub is retarded), and free distribution (DDL/torrents/bots/DC++). The only reason they'd get into a shit situation is if they (and by "they" I mean the one or two people who are actually putting down money for a server) really fucked up their finances.
But if you really want to support a group going through some trouble that they got themselves into, the best thing to do is let it collapse. Let those kids take a break from fansubbing to, oh, I don't know, find a job maybe? A few hours of working would earn them enough to pay off any debt they were stupid enough to get themselves into, and would even let them salvage the bit of pride they lost by begging strangers on the internet to support their stupidity.
Tags: Article, Fansubs